It's all about that girl power and celebrating feminity! Let's look at some of the best feminist movies that you need to see…
1. Revenge (2018)
In Revenge, the main character Jen is on enjoying a romantic getaway with her boyfriend when two armed men gatecrash, attack them and leave her for dead. Unlucky for them, she survives and she isn't letting the attack slide. The movie follows her mission to find the assailants whilst she overcomes many obstacles and lets nothing hold her back. They messed with the wrong women that's for sure! Beware, there is a lot of blood and gore so this movie should definitely fall under the horror category.
2. Set It Off (1996)
This movie is based around four black women that all grew up without much money. After one of the women gets fired from her job she decides enough is enough. She discusses her constant finances and money struggles with her three friends who are in the exact same situation. They all live from paycheck to paycheck. So, after much discussion, they decide to take things into their own hands and plan a robbery that they hope will completely change their lives. And the main characters are played by some seriously talented female actors- Jade Pinkett Smith, Queen Latifah, Vivica A. Fox and Kimberly Elise.
3. Hidden Figures (2016)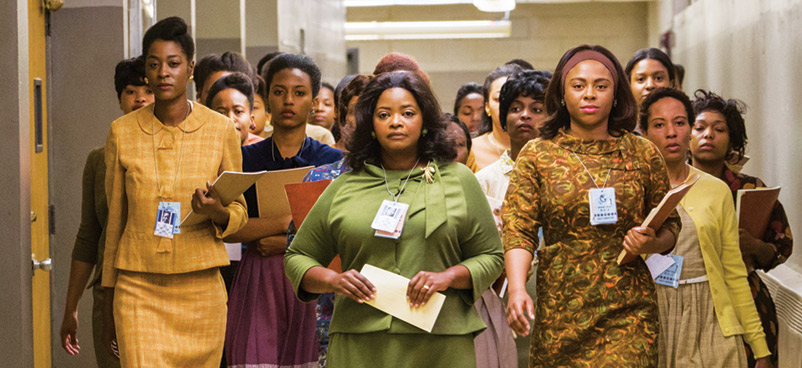 This movie introduces three exceptionally intelligent African-American mathematicians. It tells the story of the struggles and discrimination that they have all faced their whole lives. Especially in the work environment. These women connect through their similar life experiences. They are the brains behind astronaut John Glenn's launch into orbit yet still face racial and gender oppression at work. It's clear that these women are bosses as they keep fighting and always come out on top. They don't stop until they get the recognition and respect they deserve. They will not stay hidden.
4. The First Wives Club (1996)
This tells the story of three wives who are divorced by their husbands for younger models. And there's one thing for sure, they are not going to let it slide easily. These women build a close relationship over this shared experience and want to seek revenge against all of the husbands. They are all distraught after years of doing everything for their husbands to just get dumped when a younger pretty woman comes along. But instead of sitting around wallowing in their own pity, they take matters into their own hands. They want justice and the husbands should be afraid.
5. Moana (2016)
This is a Disney movie that oozes female empowerment from the main female protagonist Moana Waialiki. Legend tells of a hero that is destined to find the demi-God and save the people and the island. It takes you on an adventure-filled journey in which she proves her worth and power. It's a great movie, especially for young girls. Moana finds her voice and identity throughout her travels and learns how powerful she really is. She realises that anything she puts her mind to she can achieve. She shoots the stereotypical Disney princess in need of rescuing out of the sky. She's a real badass that definitely doesn't need saving.